For several days now, Focus hotels have been able to enjoy the freedom of receiving guests again! We want the stay in our hotels to be safe and comfortable for everyone, which is why we have introduced a number of procedures in the entire Focus Hotels chain to minimize risk. Łukasz Florczak, the hotel director, shows the viewers around the four-star facility in Gdańsk, showing how it was adjusted to the prevailing rules.
The code of good practice, which was mentioned in the video, includes such prevention elements as:
Safe reception
Receptionists use masks and protective gloves
Disposable face masks are available at the reception
There are certified electronic thermometers at the hotel reception
Staff systematically disinfects their workplaces
There is a hand sanitizer in the reception hall
Each hotel has a check-in area at a safe distance from the reception. The zone is equipped with disinfectant liquid, disposable gloves, and disposable pens
During the check-in, guests must keep an appropriate distance from each other (the distance is determined by special lines placed on the floor)
Each guest is asked to fill in a health declaration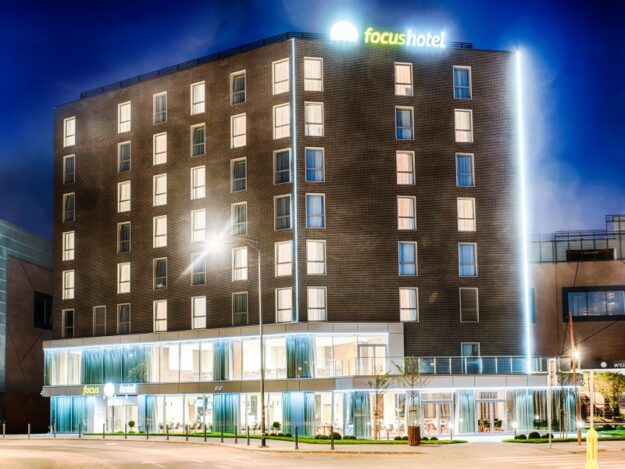 Safe rooms
All equipment and flat surfaces are fully disinfected in the rooms
The bathroom in each room has been thoroughly disinfected. You can safely use bathroom faucets, cisterns and other equipment
The TV remote control has been disinfected and packed in a disposable zip-up bag
All door and window handles, light switches, chair handle, desk, telephone and bedside tables have been disinfected with an alcohol-based antibacterial liquid
Safe public space
Disinfection is carried out periodically in the hotel public areas
The hotel bathrooms have hand disinfectants
In visible places there are instructions on disinfecting hands, rules for using gloves and masks
The playrooms have been excluded from use
The sauna and fitness area have been excluded from use

Prepared staff
Each employee has the temperature measured before entering the hotel
Hotel employees with any symptoms of a cold are not allowed to perform their duties
All employees have been trained in the procedures for disinfecting workplaces
All employees work in protective masks and gloves
Employees are required to regularly disinfect their hands and their workplaces
All deliveries to hotels are left in front of the building in order to minimize contact between staff and suppliers

In the interests of the safety of each guest, please also follow the instructions below:
Wash your hands with antibacterial soap immediately after entering the room
Don't touch your face, nose or mouth
Avoid crowded places
Keep a minimum distance of 2 meters from other people
Use the elevator one at a time
Be responsible – refrain from shaking hands and other physical contact.
Keep your activity to a minimum, if possible stay in the room.
If you feel unwell or have a suspicion that you have had contact with a person infected with coronavirus, call the reception – our staff will advise you or help you call the appropriate services.
Our restaurant will deliver breakfast / lunch / dinner to your room after ordering by phone.