The management board of Grupa Kapitałowa IMMOBILE S.A. cordially invites to the Christmas Meeting of Shareholders, which will take place on December 6, 2018 at 13:00 in the Hotel Pod Orłem in Bydgoszcz. We invite not only our shareholders, but everyone that symphatize with our company and would like to know us better.
During the meeting, we will talk about newly published results for 3Q2018. In addition, the meeting will be as always a forum for exchanging mutual opinions about the company and the capital market as well as an opportunity to enjoy a meal together, served by the excellent cuisine of the Hotel Pod Orłem.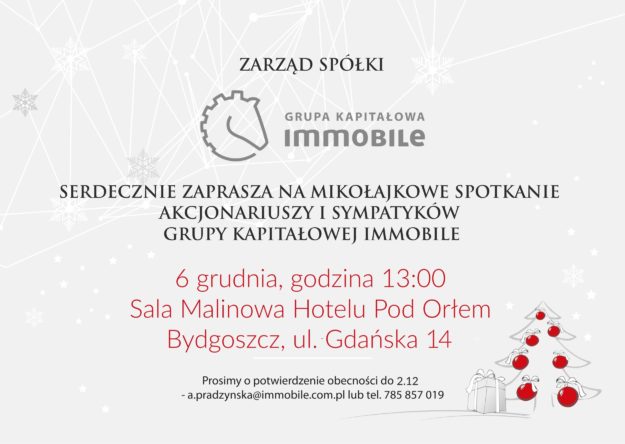 We invite Shareholders, all the friends of our company and everyone who would like to take a closer look at the functioning of the IMMOBILE Group and its companies, including the leader of the industrial sector of the Group – PROJPRZEM MAKRUM S.A. Please confirm your presence before December 2.
The pre-Christmas meeting with Grupa Kapitałowa IMMOBILE has already became our tradition. This is how we enjoyed it last year: